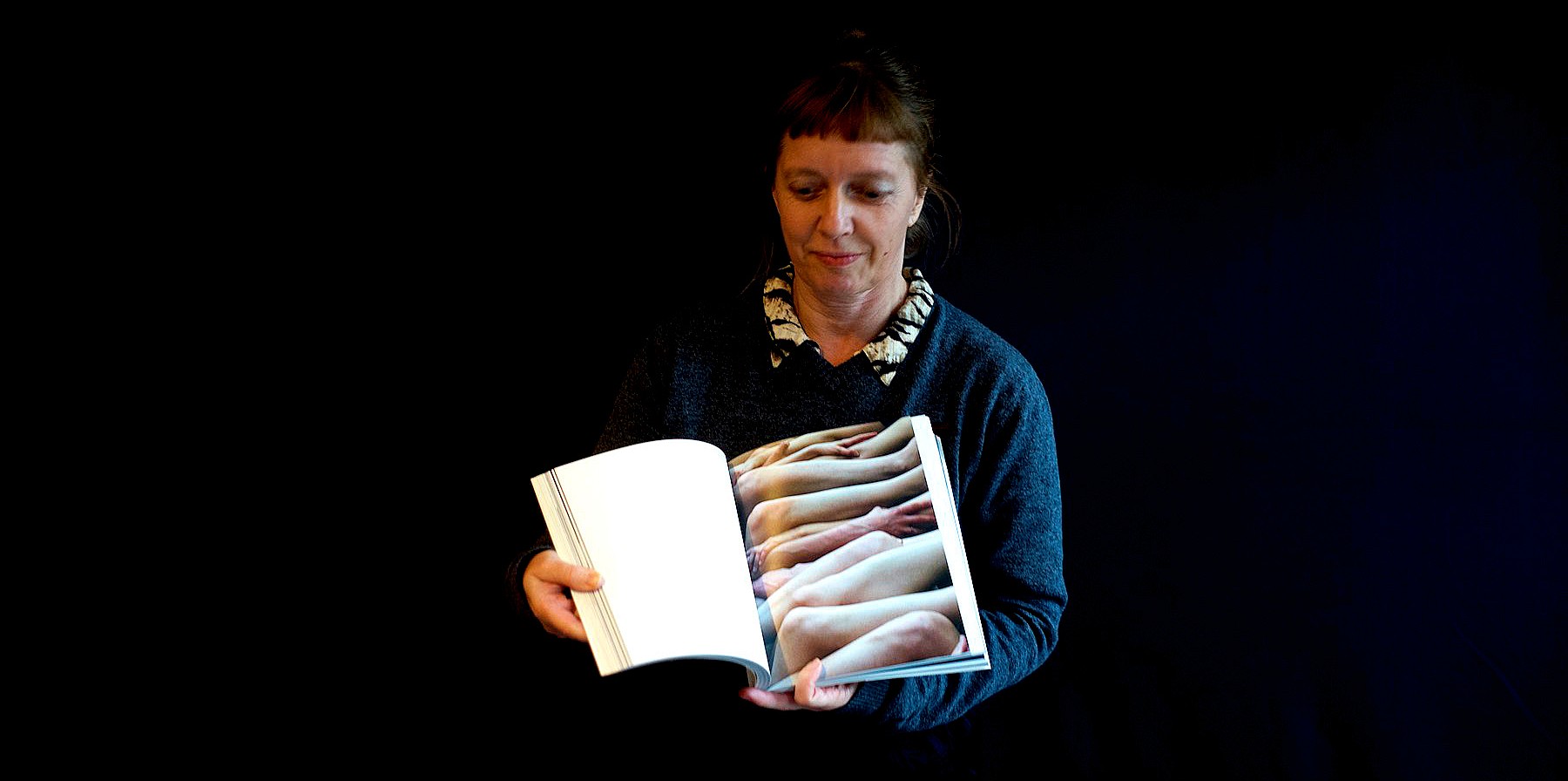 ………….

Photos: Dieter Hartwig
Isabelle Schad WITH
"The book is an asset. It complements the presence on stage with an exciting show of her choreographies from the past decade. Photography and the written word are combined to great effect. Not only is the eye fed, but also the brain."
H.S. Elgund
Contact us to order a copy of the book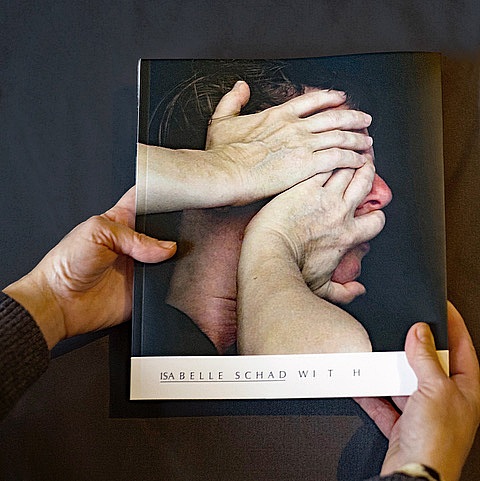 Isabelle Schad WITH
 is a book which compiles the last ten years of artistic work by the choreographer Isabelle Schad. The idea, time and resources for this undertaking arose in the exceptional condition of suspension dictated by the pandemic: at a time when theatres and rehearsal space became suddenly inaccessible, when it wasn't possible to work as usual, we decided to explore new possibilities and modes of operating, to delve into a 'new space' inhabited by language, images and new and long-term collaborators.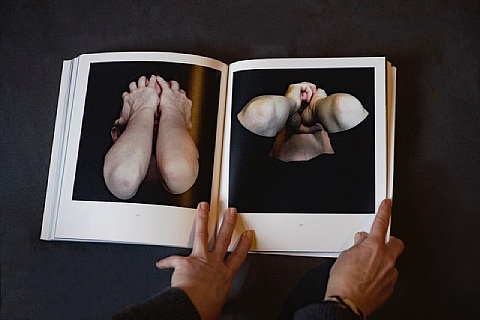 Editors: Elena Basteri, Annette Lux, Isabelle Schad with Heiko Schramm
With texts by: Elena Basteri, Saša Božić, Susanne Foellmer, Laurent Goldring, Przemek Kamiński, Andrej Mirčev, Bruno Pocheron, Isabelle Schad, Annemie Vanackere, Gerhard Walter, Gabriele Wittmann  
Graphic design: HIT
Year: 2022
Language: English / German
280 pages
Price: 28€
ISBN 978-3-00-073919-4
CREDITS: 
Edited by Elena Basteri, Annette Lux and Isabelle Schad  | Editorial collaboration by Heiko Schramm  |  Designed by HIT | Texts by Elena Basteri, Saša Božić, Susanne Foellmer, Laurent Goldring, Przemek Kamiński, Andrej Mirčev, Bruno Pocheron, Isabelle Schad, Annemie Vanackere, Gerhard Walter, Gabriele Wittmann  | Copy-editing and translation by Michael Turnbull (English), Rike Nölting (German) | Printing and production: Druckerei Rüss, Potsdam | Supported by Bureau Ritter/ TANZPAKT RECONNECT, which is funded by the German Federal Government Commissioner for Culture and the Media as part of the NEUSTART KULTUR initiatives
Introduction to a choreographer's book
Elena Basteri
This book compiles the last ten years of artistic work by the choreographer Isabelle Schad. The idea, time and resources for this undertaking arose in the exceptional condition of suspension dictated by the pandemic: at a time when theatres and rehearsal space became suddenly inaccessible, when it wasn't possible to work as usual, we decided to explore new possibilities and modes of operating, to delve into a 'new space' inhabited by language, images and new and long-term collaborators.
Read more
Coincidentally, I first worked with Isabelle Schad ten years ago, at a festival I was co-curating in Genoa, where we hosted
Unturtled
, the piece that marks the beginning of a long and fruitful collaboration with the visual artist Laurent Goldring.
From then on I continued to follow her work, not only as a theatre-goer but also occasionally taking part in the Open Practice Sessions, a format conceived by Isabelle as an invitation to share her practice. This was an opportunity for me, as a curator and dramaturge, to familiarise myself with her artistic universe from a new and unusual perspective, to witness not just by watching but by doing.
And as a witness of these last ten years, I sense that the different works created during this time, together with their underlying practice, constitute one living body, one 'organism', made up of intertwined and interdependent threads of meanings, gestures, energies and people, weaving a line of continuity, coherence and resonance through time and space.
.
This weave constitutes the fabric of Isabelle Schad's practice: a patient, persistent, horizontal, rhizomatic and ecological practice that goes beyond fashions and trends to remain true to the principle that inspires it: the search for the essence of movement, on stage as in life, and to paraphrase Annemie Vanackere, the search (still unfinished – because unfinishable) for the innermost sources of movement of and in the social sphere.
.
This search has been nourished over time by embryology and somatic practices such as Body-Mind Centering, as well as by aikido, zen, shiatsu and voice techniques – multifaceted approaches that tend towards a common point: the overcoming of dualisms and binary ways of perceiving, thinking and moving. The dance, as it appears to us from the 'outside', emerges from a profound search for the 'inside' and is one with it. This uncompromising approach to movement informs how we see it: a poetic, sometimes uncanny beauty emerges that goes far beyond the form, the appearance; an 'inner gaze' is activated, as Andrej Mirčev maintains in this publication, that transforms the experience of looking into something visceral and contemplative. 'Contemplation' comes from the latin con (with, by means of) and templum (a portion of sky).
.
The priest, the augur, who in ancient Rome questioned the gods to know their will through the flight of birds, would raise the lituo, his sceptre, and with a broad hieratic gesture circumscribe the portion of the sky he would observe. Through this contemplation he would determine whether or not the deities liked a choice made by humans.
By extension, 'to contemplate' means a watchful, absorbed way of seeing, spiritually driven and open to wonder. I like to think of the stage as a templum, where 'small miracles', to quote the choreographer herself, can happen.
Back to this object you are holding in your hands, and given the premise of such an intense experience for the spectator in the liveness of the theatrical moment: does a book about dance represent an oxymoron, a denaturisation, where movement is transformed into an image, feelings into words?
If it is true that dance, as a live art, lives in the present and is essentially resistant to any kind of documentation, it is equally true that dance needs places of preservation and care, not only for the sake of the work itself but also as a gesture of generosity and sharing.
So this book is intended to add to those still too rare books on choreographers, on dance as an artistic field, that put choreographic work at their centre and present it in 'another' form, making it available to a wider public.
Part of the effort of the editorial team behind this publication – consisting of myself, Isabelle Schad and Annette Lux of the HIT graphics studio, supported by Isabelle's long-term project manager, Heiko Schramm – lay in creating an evocative, dynamic and haptic space where the sensuality of the images is supported and enriched by the written word.
Another priority was to account for the human and professional constellation which has been the connective tissue of the work over the years: a network of relationships continuously woven and kept together by Isabelle Schad over time, despite the endemic insecurity and the project-based working mode that characterises the independent scene.
Many representatives of this constellation of people can be found within these pages in various capacities; the 'with' of the title is accordingly a tribute to this immanent and open relationality.
The authors range from close and long-term collaborators, such as the lighting designer Bruno Pocheron, the dramaturg Saša Božić, the dancer Przemek Kamiński, the aforementioned visual artist Laurent Goldring and myself, to theorists and writers who have followed Isabelle Schad's work for many years, such as Susanne Foellmer and Gabriele Wittmann, or others who have recently discovered it, such as Andrej Mirčev. They also include representatives of institutions that have continuously supported and shown Schad's work, such as the director of the Hebbel am Ufer theatre, Annemie Vanackere. Various voices, therefore, offering a variety of perspectives and stylistic registers.
The book's images, largely unpublished, are by the experienced dance photographer Dieter Hartwig, by Laurent Goldring – to whose collaboration an entire section of the publication is dedicated – and Isabelle Schad herself.
Schad's authorship is also present in various texts and interviews that offer direct, unmediated insight into her cosmogony. A special feature is the conversation with the aikido master Gerhard Walter, a very important point of reference for Schad's life and work in recent years, who introduced her to a specific approach towards 'natural movement'.
The script of Fugen – the only piece by Schad that contemplates language and spoken words – provides an autobiographical narration, and it is the only text that has not been translated, to adhere as much as possible to its oral character, in an otherwise entirely bilingual publication.
Informed by a similar intention toward the original voices of the various authors, each text has been published in the language in which we received it: English or German dynamically alternate in the book, while an appendix at the end collects the corresponding translations.
To conclude this introduction I wish to extend a genuine invitation to the reader: do inhabit this space we have created by navigating through it with open senses; do contemplate the images and feel the words; do become part, by weaving a personal thread into its texture, of the 'withness' of the title … until the next time we meet in the theatre.
Isabelle Schad. Monografie.
Von Arnd Wesemann, erschien in Tanz, März 2023
Es ist zwanzig Jahre her, dass die Choreografin Isabelle Schad in Berlin die Kompanie Good Work Productions gründete. Jetzt sind die letzten zehn Jahre ihres Schaffens in ein opulentes Buch geflossen – meisterlich fotografiert von Dieter Hartwig, Laurent Goldring und Schad selbst. Die beinahe kubistische Architektur ihres Tanzwerks ist von verführerischer Schönheit, unter deren Oberfläche nicht nur ein Rückblick etwa auf die Zusammenarbeit mit dem Philosophen und Künstler Goldring möglich wird (letztens erst im Schweizer Muzeum Susch geehrt). Dank namhafter Autorinnen wie Gabriele Wittmann und Susanne Foellmer im Gespräch mit Schad zeigt sich genau das, was die Kunst der ehemaligen Stuttgarter Balletttänzerin heute ausmacht: ihre präzise Analyse von Bewegungen, um in Soli und Gruppen Körperlandschaften zu erzeugen. Körperlandschaften, die voller Energie, zugleich spürbar durchdacht und fein gemacht, das Publikum dazu animieren, stets leicht vorgebeugt feinsinnige, an Body-Mind Centering, Aikido und Shiatsu geübte Tanzereignisse zu goutieren. Vorgebeugt statt zurückgelehnt mit verschränkten Armen: Genau diese Haltung nimmt man auch ein vor diesen von der Kuratorin und Dramaturgin Elena Basteri kompilierten 288 Seiten, einem Bildvergnügen samt zweisprachigen Innenansichten mit Tiefgang.
Isabelle Schad. Monograph.
By Arnd Wesemann, published in Tanz, March 2023.
Choreographer Isabelle Schad founded Good Work Productions in Berlin twenty years ago. Now the last ten years of her work have been collected in an opulent book – masterfully photographed by Dieter Hartwig, Laurent Goldring and Schad herself. The almost cubist architecture of her dance work is of seductive beauty beneath the surface of which it is possible to look back at her collaboration with the philosopher and artist Goldring (recently honoured at the Swiss Muzeum Susch). And thanks to renowned authors such as Gabriele Wittmann and Susanne Foellmer in conversation with Schad, it becomes clear exactly what the art of the former Stuttgart ballet dancer is today: her precise analysis of movement to create body landscapes in solos and groups. Body landscapes that are full of energy, but at the same time noticeably well thought-out and finely crafted, encourage the audience to appreciate dance events that are always slightly bent forward and subtle, practised in body-mind centering, aikido and shiatsu. Leaning forward instead of sitting back with arms folded. And this is also the stance one takes to these 288 pages, compiled by the curator and dramaturge Elena Basteri, a visual delight with thoughtful inside views in two languages.
---
H. S. Eglund on eglund.de and BERG.LINK (German)
Isabelle Schad WITH: Printing Dance, Describing Dance
Recently, the Berlin choreographer's dance brigade fits between two book covers. Shortly before the end of the year, a retrospective of her work was published, looking back over the last ten years. The numerous projects fill much more than just pages. A recommendation.
Read more
She works with soloists, choreographs groups or takes to the stage herself: Isabelle Schad is an established name in the Berlin dance scene.
She has made a name for herself far beyond the city's borders and has won numerous prizes. Her finely crafted projects offer a unique aesthetic made up of body language and movement.
The contrast between light and dark
Contrasts play a major role: light bodies against dark backgrounds, stripped of disturbing clothing, from a moving single act to a teeming group picture, following their own rhythm, amazing mechanics of arms, legs, hands, feet, heads and hair.
Now a printed monograph has been published that offers a beautiful overview of the diverse works of her artists and groups. Beautiful because the imagery of the large-format photographs echoes and condenses the typical aesthetic of Schad's stage works.
An idea from barren times
Printing dance is as difficult as writing about dance. It is only about the catalogue, not about the works on stage. The idea for the monograph was born at a difficult time, when Corona was closing its dance theatres. The fact that the catalogue was finally completed is a testament to the perseverance of the artist, her collaborators and fellow artists.
The book is an enrichment. It complements her presence on stage with an exciting presentation of her choreographies from the last decade. The result is a successful mixture of photos and texts. It is a feast not only for the eye, but also for the brain.
Those who do not know Isabelle Schad's work will be inspired by this book. There is no doubt about that. And for those who are already familiar with her work, the images and descriptions will deepen existing impressions.
Collective creativity as a red thread
The idea of collective creativity is particularly striking. It runs like a red thread through the book and the projects presented in it. The title Isabelle Schad WITH outlines the aspirations of the choreographer, who always sees herself as a team player. In the past one would have said folk art collective or dance brigade. The I takes a back seat to the WE, in all modesty.
In this way the monograph becomes a bit like a brigade diary, it comes alive because it focuses on the creative process. It is not primarily about the final presentation on stage, but about the continuous creation of choreographies in the group. Sometimes the team consists of just you and/or a soloist. Sometimes there are twenty artists floating around the room.
The list of participants is long, very long. Nevertheless, the catalogue appears to be a unified whole. Fortunately, all the texts are in German and English. The first-class photographs, of course, need no translation.
Schad's choreographic style is understood worldwide, even without words. To sum up: printing dance, describing dance – this difficult undertaking is more than successful.
.