Revolver

A Performance by Nuno Bizarro (choreography and performance), Isabelle Schad (choreography and performance) and Bruno Pocheron (light and sound).
"While Revolver takes place in the frontal theatre apparatus and while it unfolds through the appearance and disappearance of images, the particular focus / attention that the two protagonists give to their movements and to the contact with each other invites us to perceive the action in its three-dimensionality and to enter the volume and the density of the moving bodies. The gaze is sucked in details, intensities and in the movement continuum, so that the emerging images are not imposed but incorporated, leaving us with the choice to perceive them or not, to pause on them or to let them go. A quasi-stroboscopic light fractions the movement continuum and simultaneously underlines it: we can perceive the movement flux which is treated in such a way that we can as well read it as a succession of events, second after second, moment after moment.
Revolver evacuates any possibility of a narrative reading, thus escaping the trap of the representation of a male/female couple.
Revolver takes on the interrogation and the blur of our perceptions related to images, space, movement and time."
Frédéric Gies
A Performance by Nuno Bizarro, Bruno Pocheron and Isabelle Schad
Concept / performance: Nuno Bizarro, Isabelle Schad
Lighting / sound: Bruno Pocheron
Production: Good Work Productions
Co-production: CDNC Angers, Monty Antwerpen / Amperdans
Thanks to: Mime Centrum Berlin, Tanzwerkstatt Berlin
This specific formulation of the credits has to be respected by any venue presenting revolver in any published document.
Photos from the performance in Tanznacht Berlin 2004.
© Good Work Productions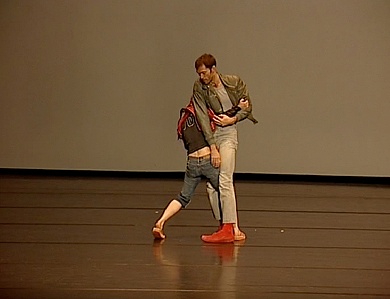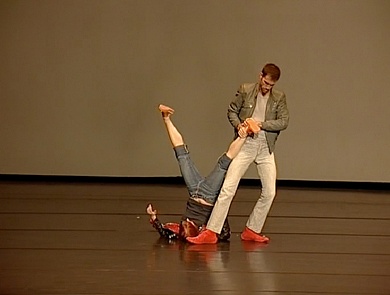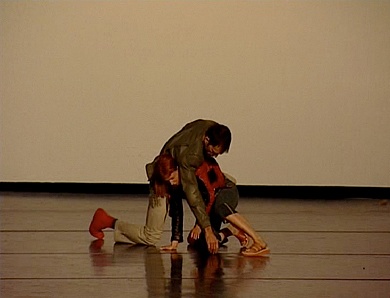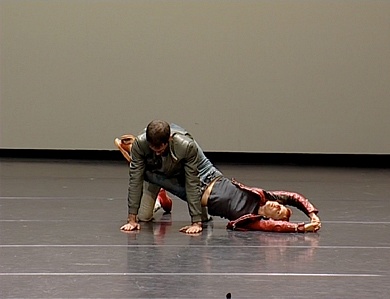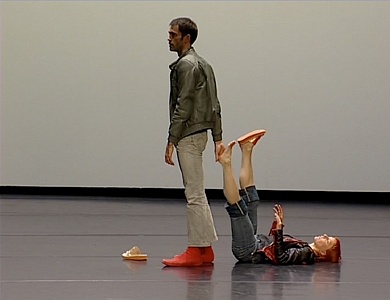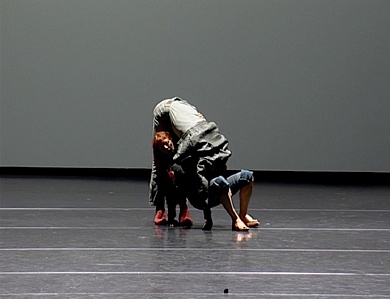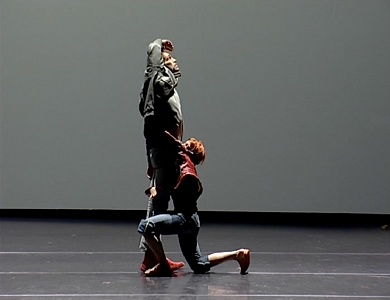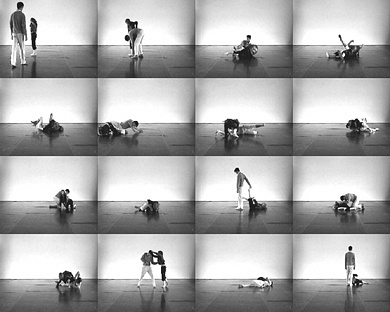 2005 Revolver in the Festival Lignes de Corps
Espace Pier Paolo Pasolini, Valenciennes, France
2004 Revolver and California Roll in Amperdans Festival
6th + 7th October. In Monty, Antwerp.
2004 Revolver in CNDC Angers
showing / work in progress, 11th June 2004 Centre national de danse contemporaine – Angers
This technical rider will be adapted to each venue. An appropriate sound and light plot will be worked out on plans.
Contact: Bruno Pocheron
STAGE
– minimum 12 m by 12 m.
– black dance floor.
– black box.
LIGHTS
– 1 complete stage wash cold (fronts and tops in lee 203, backs and high sides in lee 202 + frost when necessary).
– 1 complete stage wash warm (fronts and tops in lee 162, backs and high sides in lee 152 + frost when necessary).
– a back wash made with Pars 64 CP 62, no colour.
– a light board allowing to programme minimum 6 different chasers on submasters and to programme sequences of linked memories (time in time out, wait times and delays).
SOUND
– 1 cd player / 1 stereo line in.
– we bring 1 computer with fire wire sound card / 4 stereo lines in.
– 2 full range speakers in the back of the stage / 1 amp.
– 2 full range speakers in the front of the stage / 1 amp.
– 2 full range speakers in the back of the audience / 1 amp.
– 2 subwoofers / 1 amp.
– 1 mixboard / minimum 5 stereo in / 4 independent stereo outputs / each stereo line in should have the possibility to be played on the 4 stereo outputs.
The Amperdans festival in Antwerp presented eleven companies over four days at two main venues, The Monty and WP Zimmer, and included on the last day a colloquium, 'Constructing Contemporary Dance', organised by the University of Antwerp, at which I presented a paper. At the same time in Antwerp, there was a premier of a new work by Jan Fabre, while in Brussels the Kaaitheater presented the premier of Thomas Lehman's 'Schreibstück'. There was a festival of new Turkish theatre and dance, and various other dance performances in Brussels and elsewhere. People kept telling me it was crazy that there was so much, but what this surely demonstrated was how much bigger the audience in Belgium is for challenging new dance work compared with England.
Read more
The other impression I took away with me, apart from that made by the dance performances I saw, was what a sophisticated level of theoretical discussion there seemed to be shared between dancers, national dance critics, and dance programmers. At the colloquium, no one thought it unusual that dancers and critics were on panels responding to theoretical academic papers. And of course they all did it in English. The English term 'conceptual dance' — used to describe work by Xavier Le Roy, Jerome Bel, et al. — has evidently been in circulation for a number of years, although this is not a label I am aware of anyone using in England.
My paper from the colloquium along with those of the other two presenters, Professor Rudi Laermans and the writer Pieter T'Jonck have been posted at sarma.be. They all touched on this kind of new, theoretically informed dance work in different ways. It was my impression that the colloquium had been planned to bring out key concerns within the Belgian dance scene at the moment: about 'conceptual dance'; about blurring of boundaries between experimental fine art and dance; and about the seeming lack of history of contemporary dance in Belgium – one friend suggested to me that many Belgian dance students think that Flemish contemporary dance started with Rosas, before which there was only Béjart's Ballet of the Twentieth Century.
What I dislike about the idea that there is something called 'conceptual dance' is the implication that the choreographer (as inspired genius) works something out in a purely intellectual way which is then translated into some kind of clever performance in which the dancers play a marginal, subordinate role: the spectator then decodes the performance event to arrive back at the choreographer's pure inspiration. It is true that some dance makers have developed creative processes that include consideration of theoretical ideas or a mutual contamination of theory and practice, with or without the help of an external dramaturg. The result can be a hybrid performance that deconstructs normative expectations: about ownership of the creative process; about the nature of dance movement; about performative presence; about the performer-spectator relationship, etc. This opens up new previously inconceivable possibilities (but please let's not call it 'conceptual dance'). It is these kinds of new possibilities that I found in many works I saw in Antwerp. Much of it was by dancers who had trained at PARTS, but the festival also included dancers and companies from France, Germany, Italy, Portugal, and Finland.
Kinkaleri are a group from Italy who, rather like La Ribot, are funded in their own country as a dance company but whose work in England would be labelled as live art rather than dance. They work as a collective and, when talking about their work, seem to avoid speaking about individual contribution, using the pronoun 'we' instead. Their piece 'Otto' was very funny, absurd, made up of overlapping, disconnected incidents performed by three performers who moved around the stage seemingly without ever acknowledging each other's presence.
One performer kept walking on and falling flat on his face, dropping whatever he was carrying. His fall was soft, relaxed, and silent because the performance space had been carpeted. After lying 'dead' a while, he got up and exited. As the piece proceeded the pristine new, light fawn carpet was progressively ruined by the things he and others dropped. Yogurt, honey, an indoor firework attached to a flour bomb, a large cream cake, paper towels, a toilet roll, and an uncannily lifelike naked rubber male body all accumulated on it.
Meanwhile a second, female performer who wore a series of black tops each with a different white number printed on it, bopped away on her own listening to barely audible pop music on a cd-walkman or quietly executed moves from a modern dance class. A third young man brought on various large objects, including a camping tent, a camera and tripod with which he took a flash photograph, a life-size framed picture of a man.
At the end one could look back across the now cluttered carpet and retrace the piece through the detritus spread across it. Despite the neutral quality of the performance, 'Otto' was superbly, excessively wasteful: an irreversibly ruined carpet and a performance space that would take so much time to clear up that no other performance could follow it in that space that night. Perversely, this excess seemed to serve the function of the aesthetic.
The only moment when the three performers came together was for a false ending, where they came forward to smile to the audience, paused as we applauded but didn't bow, then turned to go but, before reaching the exit, fell as one face down on the carpet. The effect of all these unconnected incidents was somewhat like a Cunningham event: not a collage nor a synthesis that created more than the sum of its parts, but a simple coexistence of independent units. Kinkaleri performed their actions in a neutral, matter of fact way, with clarity and without virtuosity or any attempt to claim attention for themselves as individuals. No one part stood out, just as Kinkaleri presents itself as a non-hierarchical, almost de-individualised collective.
The first piece I saw in the festival was 'Revolver – Good Work II' created by Isabelle Schad, Nuno Bizarro, and Bruno Pocheron, and performed by Schad and Bizarro. It is the second piece in a trilogy, although I haven't seen the others. For most of this fifty minute piece, the two of them performed with slow deliberation in silence. Wearing jeans, leather bomber jackets and fashion footwear, they executed an almost painfully sluggish contact duet that was marked by their hard, fixed facial expressions and tightly stretched poses and hand gestures. There were also deliberate manipulations of partners' limbs, and moments of calm, impersonal massage.
The harsh coolness of their performative presence disallowed the kinds of organic, sensual qualities generally created during contact work, just as their leather jackets seemed to protect and insulate the dancers from each other and their environment. Schad told me that in rehearsal they had videoed improvisations then chosen one and carefully reconstructed it without 'improving' it or making it more virtuosic. The title 'Revolver', she said, referred to the single shot of the video.
Disaster struck the performance after forty minutes when a fuse blew. After waiting in darkness for a few minutes we all had to leave. However we were allowed back 15 or 20 minutes later to see the piece completed (this was its premier). The two dancers understandably had to make a big effort to try to get back into the piece. Although the affective charge they had been building up had all gone, it was uncanny to see them repeat the last minute of material before the fuse had blown as this reinforced the piece's set, rehearsed quality.
What followed came as a surprise. After all that silence punctuated by intakes of breath and the creaking of leather rubbing against leather, a recording of T Rex's classic 'Children of the revolution' was played while they continued their duet. After this Bizarro performed an oddly mimetic solo that was almost clown-like. Both dancers then left the stage while, in darkness, we listened to the whole of the T Rex song again before they returned to take their bows. Like Kinkaleri's 'Otto', the structure of 'Revolver' seemed large enough to allow extraneous material to sit side by side without being subsumed into some totalising whole.
One last piece I want to discuss is Alexander Baervoets's 'Schäme Dich' which he performed with Heike Langsdorf in a studio at the top of the Monty. In this, the seating had been arranged along two long sides of a corridor-like space so that throughout we on one side were always aware of audience members facing us across the room. 'Schäme Dich' had an extremely spare, symmetrical structure and a symmetrical set. At one end of the corridor in an armchair sat a woman with short hair wearing a man's black trousers that were slightly too big for her. Beside her on the floor was a mattress. At the other end, in a matching armchair facing the mattress, sat a man wearing a black lace petticoat that was slightly too small for him. Beside him, fixed vertically to a solid black partition was another mattress.
A piece of Bach played quietly while Baervoets twitched uncomfortably, sometimes awkwardly marking out its rhythm with a shoulder isolation or a spinal contraction. Meanwhile Langsdorf, at the other end, slowly and impassively surveyed the space. The music ended and was replaced with a recording of industrial sounds – a building site perhaps? Baervoets crawled slowly along the corridor to lie on the horizontal mattress while Langsdorf ran at full tilt into the vertical one, retracing her steps backwards to run at it again, and again, and again. After a while she began to shout 'Schäme Dich' – be ashamed – before starting her run. This seemed to go on for a very long time until Baervoets crawled back to his armchair and Langsdorf retraced her steps backwards into hers.
In the middle section, they acted out a brief, bad scene from a 1950s American romantic play, with Baervoets in the female role and Langsdorf as the man. Spatially this brought them towards one another in the middle the on to the other end of the corridor. It was repeated a second time and then, to a slightly ironic groan from some in the audience, a third. This left Baervoets and Langsdorf sitting in the opposite chair from the one in which they started the piece. The recording of industrial sounds was played and this time Baervoets crashed himself repeated into the vertical mattress, shouting 'be ashamed' in French. Then the Bach played and he twitched away uncomfortably in her armchair while she, sitting in his, stared impassively around the space.
I should say that despite both dancers cross dressing, there was nothing camp about Baervoets's performance nor butch about Langsdorf's. He moved in an expansive, slightly clumsy way that betrayed his masculinity, while her icy presence and her bare chest were unmistakably feminine. Although ostensibly they were ashamed of their cross dressing, the piece had for me a larger resonance.
Performance always involves an element of self revelation. 'Schäme Dich' refused to glamorise this. Its repetitions and its symmetrical structure meant that there was no mystery, no surprises, just clear, undisguised, predictable but extremely uncomfortable events.
The three pieces I have picked out for discussion were all very different from one another. While Kinkaleri's 'Otto' was absurdly funny, 'Revolver' and 'Schäme Dich' were each coolly intense and uncomfortable works. I don't want to suggest that they had a great deal in common, but seeing them together in this festival made me think they each drew energy from a prevalent sense of cultural anxiety.
In their very different ways each piece exemplified an admirable lack of pretence – the carpet was really ruined, the dancers were really crashing into a mattress, the improvisation was performatively reconstructed without embellishment. As spectators, I think, we were put in the ethically ambiguous position of witnessing sometimes painful, sometime comic struggles to find new, non-hierarchical, unpretentious ways of being appropriate to our currently dark, difficult times.
Ramsay Burt / Critical Dance
17 October 2004

Frédéric Gies about Revolver (french)
Alors que Revolver prend place dans le dispositif frontal du théâtre et qu'il se construit au travers de l'apparition et de la disparition d'images, l'attention particulière que ses deux protagonistes portent au mouvement et à leurs contacts nous invite à percevoir l'action de manière tri-dimensionnelle et à entrer dans le volume et la matière des corps en mouvement. Le regard est aspiré par les détails, par des intensités et parle continuum du mouvement, aussi bien que les images apparaissantes ne s'imposent pas mais sont incorporées de telle sorte qu'elles nous laissent le choix de les percevoir ou non, de s ́y arreter ou de les laisser passer. La lumière quasi- stroboscopique fractionne le continuum du mouvement, de même qu'elle le souligne: nous pouvons percevoir ce flux mais celui-ci est traité de telle sorte qu'on peut le lire également comme une suite d'événements, seconde par seconde, moment par moment. En évacuant toute possibilité de lecture d'une quelconque narration, évitant notamment le piège de la représentation du couple homme/femme, Revolver s'attache à interroger et brouiller nos perceptions des images, de l'espace, du mouvement et du temps.