Knotting

Knotting is a Solo for Francesca d'Ath, performer and dancer, who has been working with me as artistic assistant over the last 10 years. Inspired by Francesca's fluid movement qualities, which are large and spacious, elastic and extended, this portrait deals with the physical understanding of the knot. The work relates to Francesca's current practice of off-road endurance cycling and other non-dance training practices, as well as to less current ones such as Japanese rope bondage (shibari and kinbaku), rock climbing, and archery.
A deep blue setting of an ongoing surface connects the vertical and horizontal plane creating a vertical connection between heaven and earth, between reality and dream. It lets parts of the body appear as if they were Cut Outs, referring to the work The Swimming Pool and other Cut Outs of H.Matisse showing sensuous women in fluid forms. The Cut Outs reflect both a renewed commitment to form and colour and an inventiveness directed to the status of the work of art, whether as a unique object, environment, ornament, or a hybrid of all of these.
Knotting is movement which never begins, never ends, ongoing and infinite, repetitive and ever lasting performed with highly physical engagement.
With Knotting, I continue my series of works which attempt to create distinct and personal portraits through a purely physical approach, moulding respective rhythms and energies into choreographed experiences.
Concept & choreography: Isabelle Schad | Co-choreography & performance: Francesca d'Ath | Sound: Damir Simunović | Lighting: Emma Juliard| Costumes: Charlotte Pistorius| Production management: Heiko Schramm
© 2020 by Dieter Hartwig, all rights reserved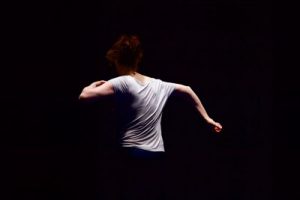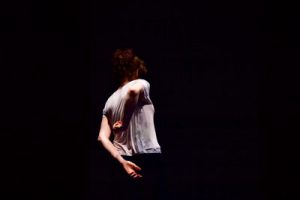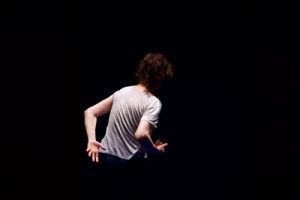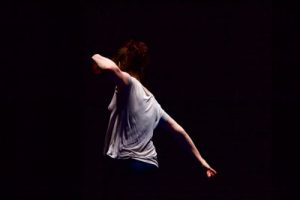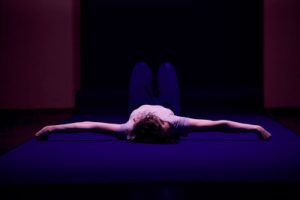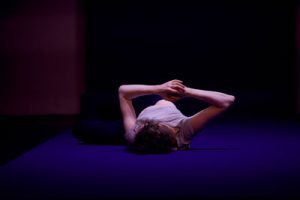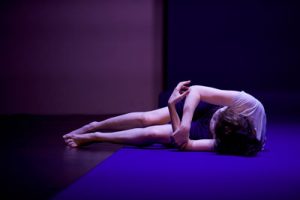 Knotting / Film / online
I am happy to announce the film-premiere of Knotting. The work was filmed a few days before the planned premiere in November 2020 and will now be available from March 12-21, 2021 on the Sophiensäle website (sophiensaele.com/) and on Tanzforum Berlin (tanzforumberlin.de)
The film for the performance Knotting documents the research for the piece in excerpts and was shot as an experiment five days before the planned premiere. The choreographic portrait is inspired by the fluid, elastic, expansive movements of the dancer Francesca d'Ath and deals with the physical understanding of the knot. A deep blue surface creates references in the set between heaven and earth, between reality and dream. A lucid space is created that makes parts of the body appear like cut-outs, referencing, among other things, the sensual and soft forms of painter Henri Matisse's works. The choreography is a powerful, ongoing play with repetition and change – with movement that never begins, never ends.
See online: Sophiensaele
4th-5th September 2020 Showings@Tanzhalle Wiesenburg
"Knotting is movement that never begins, never ends, ongoing and infinite, repetitive and everlasting performed with highly physical engagement."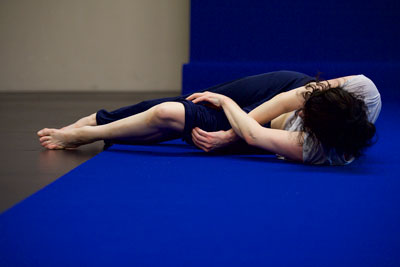 Pic: I. Schad, all rights reserved
See online: Die Wiesenburg
© 2020 by Dieter Hartwig, all rights reserved
3 Solos – On Healing:
FUR / Rotations / Knotting
The world's current situation with the Coronavirus pandemic brought up many questions – personal and general ones – and is asking for new ways to move on, for new formats and frames within a diversity of restrictions and rules, in order to stay safe and healthy.
And it asks for more than that: it asks for healing, contemplation; it asks the question how to stay connected, connected to oneself and to each another, in general and specifically in a time where contact, physical proximity and closeness in the larger sense are constrained or forbidden.
Due to those restrictions, I have been working in 1:1 formats for the last couple of months. Practical conditions informed the artistic process. Through a daily practice of attention, care and listening to each other, distance got reversed to proximity: a close relationship to oneself and one another is being cared for.
The physical and energetic approach to the 3 new Solos which are part of my portrait series are therefore to be seen as a response to the current crises. They are meant to be a timeless process of diving into another world, a world of proximity and contemplation.
Each of those 3 Solos can simply stand by itself or they can be seen in combination / in resonance to one another. They can exist in diverse Settings and the frame could be altered in regards to a specific context. The Setting could be placed Open Air or in a Museum or other spaces that allow for distancing while being together, which in this period seems relevant inasmuch as audience distribution is concerned. Truthful to the way they were created and to the the idea of a "treat" or "gift" or "offering", they could even be watched by one spectator at a time.