Turning Solo 2

TURNING SOLO 2 is a continuation of the work Turning Solo. NAÏMA FERRÉ'S whirling practice has been brought into dialogue with Schad's research around axial and weight shift, around inner movement material and its extension into the world, around energetic fields that characterise oneself and others. In 2020, dancer and choreographer JASMIN İHRAÇ reworks the score and her interpretation made it become its own universe: another person, another portrait. Turning Solo 2 now brings both portraits together for the first time to form a double that can be experienced simultaneously. '
It brings together two interpretations, two worlds, two singular portraits in a single time slot: I had long dreamed of this. Naïma and Jasmin are so different, yet the common action of whirling and running on the same score opens up a common ground with many overlaps of resonances and experiences. Parallelisms of contrasting colour.' (Isabelle Schad).
Turning Solo 2 was first developed for the Sophiensaele in 2021. Also that year, an open-air version was presented in the same way as a highly energetic, meditative turning practice in Volkspark Humboldthain during the Wiesenburg Sommerfest.ival
Concept & choreography: Isabelle Schad | Co-choreography & performance: Naïma Ferré, Jasmin İhraç | Dramaturgical support: Saša Božić | Sound: Damir Simunović | Lighting: Bruno Pocheron & Emese Csornai | Costumes: Charlotte Pistorius| Production management: Heiko Schramm |A production by Isabelle Schad in co-production with Sophiensaele |
Funded by the Berlin Senate Department for Culture and Europe | Thanks to Wiesen55 e.V.
Pics by Dieter Hartwig, all rights reserved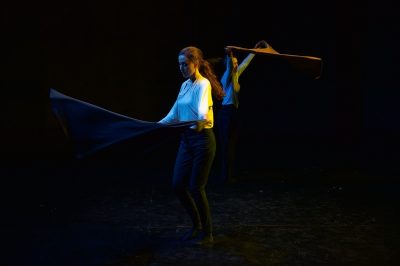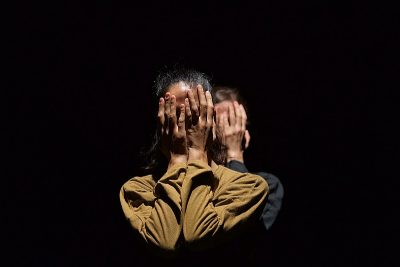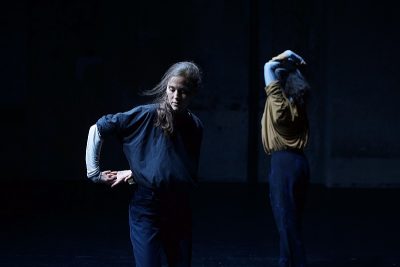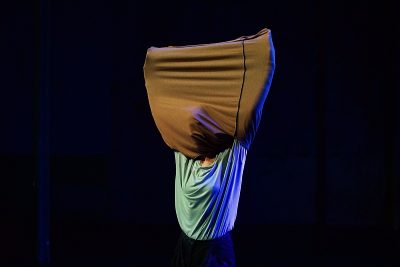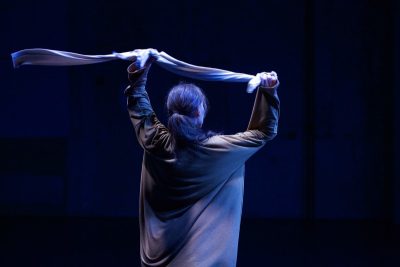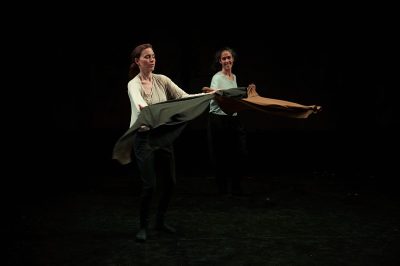 Camera and editing: Walter Bickmann, all rights reserved
Camera and editing: Alex Gabbay, all rights reserved
2022 FUR, Turning Solo 2, Rotations at Tanzwerkstatt Europa/Reviews
One of this summer's highlights: participation in Tanzwerkstatt Europa conceived and organised by Joint Adventures.
Together with the teaching experience within the dance academy camp SOLID GROUND we had the honour of showing FUR, Turning Solo 2 and Rotations.
Pic. Turning Solo 2 by Dieter Hartwig, all rights reserved
We are happy about the flattering reviews:
"Isabelle Schad, Meisterin des körperlichen Trompe-l'oeil, hat das Solo Rotations ganz auf die Extremitäten von Claudia Tomasi zugeschnitten, die ihre Finger flirren, ihre Handgelenke rotieren und ihre Arme sich so lange in- und auseinanderfalten lässt, bis man sie als vom Restkörper losgelöste Werkzeuge sieht. Auch Turning Solo 2 – ein faszinierendes Frage- und Antwortspiel zweier Tänzerinnen, die sich (Dreh-)Bewegungsaufgaben wie im Staffellauf übergeben und mit eigenen Variationen versehen weiterreichen – ist eine Herausforderung für das Auge. Aber nichts gegen das, was Aya Toraiwa in Fur mit ihrem knielangen Haar anstellt. Wie es sich hinter ihr auf dem Boden mitrollt oder wie ein Vorhang geteilt wird, aus dem alberne Finger wie Stielaugen und gefräßige Mäuler ragen, zum wohligen Nest oder Tau mutiert, an dem sie sich selbst in die Höhe zieht: Das evoziert Assoziationen zu Bondage-Praktiken und zum Objekttheater. Das Haar als Fetisch und eigenes Wesen: eine Zuschau-Lust!"
Sabine Leucht, Süddeutsche Zeitung, 7.08.2022
"[…] Dafür sorgten tags darauf Isabelle Schads Interpretinnen für imposante Eindrücke, angefangen bei Aya Toraiwa, deren wadenlanges, fülliges Haar eine umwerfend wandelbare Hauptrolle in FUR spielt. In Turning-Solo 2 teilen sich zwei Tänzerinnen eine simple Choreografie und garnieren deren jeweils eigenen Fluss mit kleinen Eigenheiten. Claudia Tomasi beeindruckte zuvor nachhaltig: Für ihre langgliedrige Figur hat die 2019 mit den Deutschen Tanzpreis geehrte Schad Rotation kreiert – ein eindringliches Solo, bei dem die Losgelöstheit der Arme vom Körperrest verblüfft."
Vesna Mlakar, Abendzeitung, 10.08.2022
See online: munichticket
2021 Sophiensaele, Berlin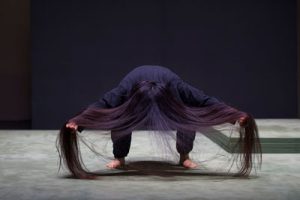 See online: sophiensaele
2021  FUR and TURNING SOLO 2 at the Potsdamer Tanztagen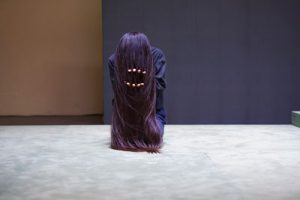 This upcoming weekend, join us at Fabrik Potsdam, just one hour outside of Berlin. In the frame of the festival Potsdamer Tanztagen we will show FUR and Turning Solo 2, two recent works that invite the audience to a timeless experience of closeness and contemplation.
"Isabelle Schad, Meisterin des körperlichen Trompe-l'oeil, hat das Solo "Rotations" ganz auf die Extremitäten von Claudia Tomasi zugeschnitten, die ihre Finger flirren, ihre Handgelenke rotieren und ihre Arme sich so lange in- und auseinanderfalten lässt, bis man sie als vom Restkörper losgelöste Werkzeuge sieht. Auch "Turning Solo 2" – ein faszinierendes Frage- und Antwortspiel zweier Tänzerinnen, die sich (Dreh-)Bewegungsaufgaben wie im Staffellauf übergeben und mit eigenen Variationen versehen weiterreichen – ist eine Herausforderung für das Auge. Aber nichts gegen das, was Aya Toraiwa in "Fur" mit ihrem knielangen Haar anstellt. Wie es sich hinter ihr auf dem Boden mitrollt oder wie ein Vorhang geteilt wird, aus dem alberne Finger wie Stielaugen und gefräßige Mäuler ragen, zum wohligen Nest oder Tau mutiert, an dem sie sich selbst in die Höhe zieht: Das evoziert Assoziationen zu Bondage-Praktiken und zum Objekttheater. Das Haar als Fetisch und eigenes Wesen: eine Zuschau-Lust!"
Sabine Leucht, Süddeutsche Zeitung, 7.08.2022
"[…] Dafür sorgten tags darauf Isabelle Schads Interpretinnen für imposante Eindrücke, angefangen bei Aya Toraiwa, deren wadenlanges, fülliges Haar eine umwerfend wandelbare Hauptrolle in "FUR" spielt. In "Turning-Solo 2" teilen sich zwei Tänzerinnen eine simple Choreografie und garnieren deren jeweils eigenen Fluss mit kleinen Eigenheiten. Claudia Tomasi beeindruckte zuvor nachhaltig: Für ihre langgliedrige Figur hat die 2019 mit den Deutschen Tanzpreis geehrte Schad "Rotation" kreiert – ein eindringliches Solo, bei dem die Losgelöstheit der Arme vom Körperrest verblüfft."
Vesna Mlakar, Abendzeitung, 10.08.2022